16 May 2013
June, 17th 2013 - Thanks to the latest arrangements made by CDR and Cap Lab, the leader company in furnishing with analytical technologies Brazilian dairy industries, Foodlab and miniFoodlab analysis systems will be distributed in the Brazilian market.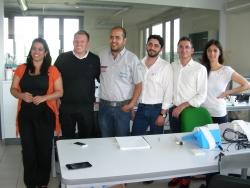 Cap Lab is a company with many years of experience in the dairy industry as a supplier of analysis equipment and solutions. They furnish laboratories, production lines of large dairy factories, small cheesemakers and dairy farms all over Brazil.

Brazilian clients will be able to view CDR Foodlab and miniFoodlab during Minas Lácteas 2013, in Juiz de Fora from 16th to 18th of July.
Foodlab and miniFoodlab enables to control the major parameters for dairy products as L – Lactic acid, MUN, Lactose and more besides, with several advantages in comparison with traditional ways of analyzing.
Read the complete news