13 May 2010
CDR is very pleased to announce the distribution agreement reached with the
Lebanese society Biolab
in March. This agreement is very significant for CDR because Lebanon is an important Mediterranean country, situated in the Middle East, a very important area for our products.

For this reason, CDR has decided to entrust Biolab with distribution in the Lebanese market of the FoodLab line especially for
fats and oils testing
,
quality control of dairy products
,
olive oils analysis
and
wine and must testing
for winemaking.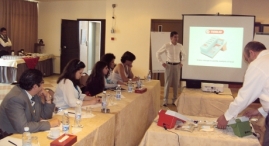 Thanks to the distribution agreement with Biolab,
food and beverage analyzers of FoodLab Line
, were presented in Beirut to a group of operators of the edible oil sector and of Lebanase food industry of various sectors: dairy and milk farms, cattle breeding, oil mills, eggs factories and wineries that have an ancient tradition in Lebanon. A considerable interest was expressed for the FoodLab, FoodLabFat OxiTester and PalmOilTester. The very innovative
CDR analyzer of Wine and must
, WineLab, was particularly appreciated by lebanese wineries.
Biolab Instruments L.L.C.
(www.biolablb.com) import and distribution company founded in 1982 is specialized in
laboratory equipment
and it is the exclusive agents for various European, Japanese, American, and Chinese High‐tech companies. Biolab prides itself to always be in the forefront of technology, offering the latest innovations in the fields of
supplies and services for laboratories
.