12 November 2013
4 December 2013 – Great success for
WineLab
  WineLab at Simei 2013. At our stand we received a large number of visitors and the International fair was an interesting showcase for our wine and must analysis system, WineLab.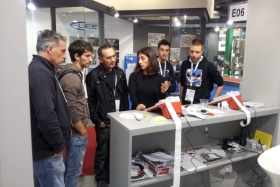 We had the chance to illustrate the news and the updating concerning the analyzer:
The new multi-parametric
The video tutorials on line in italian
We moreover collected new contacts, mainly from foreign countries, and we had got positive feedbacks from our clients, mainly from Italy, who were visiting the show. It was the best opportunity for comparing and dialogue and for meeting new possible partners. In short, a very good balance for WineLab at this edition Simei. Read the
complete news
.