7 April 2010
From 24th to 25th March, the International Plantation Expo (IPE) 2010 is being held in Krabi, the centre of Thailand's lucrative plantation industry, in which CDR PalmOilTester will be presented by its Thailand distributor PLT Scientific (Thailand) Co., Ltd. During the exhibition,
PalmOilTester
will be presented by its Thailand distributor PLT Scientific (Thailand) at
booth number 8
.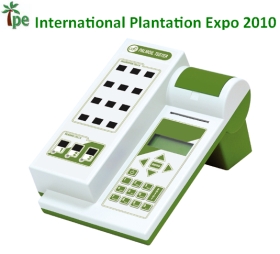 The International Plantation Expo 2010
organized by the Asif International is to showcase technologies, machinery, equipment, products & services for the oil palm, rubber & coconut industries. The two-day exhibition take place at Maritime Park & Spa Resort, Krabi provides a valuable platform for the exhibitors to promote & market their products and services. It is also a good opportunity for exploring new business areas in the plantation industries in Thailand. It brings together a congregation of plantation related international visitors and exhibitors alike right into the heart of Thailand's plantation province. Held at Krabi, International Plantation Expo 2010 would provide opportunities to plantation related industry players to gain access to Thailand's plantation industry market. "International Oil Palm Planters Conference" will run concurrently with IPE 2010. The conference will cover topics that would be very useful to oil palm planters worldwide. It will focus on the latest technologies on oil palm cultivation and other issues such as planting in peat soil, pest control, sustainability etc. The conference will held on 25th March and on the 26th 2010 a Field Visit and On Site Briefing has been arranged for all conference delegates and exhibitors. The Field Visit and Onsite Briefing will be held at the Univanich Oil Palm Research Centre, Chean Vanich Estate & Oil Palm Nursery, Univanich Topi Estate and Palm Oil Mill.
Contact
PLT SCIENTIFIC (THAILAND) CO., LTD.
188/2-3, Charansanitwong Road Baanchnaglor, Bangkoknoi 10700 Bangkok, Thailand Tel: +66 (0) 2866 4066 Fax: +66 (0) 2866 4069 Email: sam@favorit-sci.com Website:
www.favorit-sci.com